Description
USB3.0 Active Optical Cable data lines using optical fiber transmission, and it has a natural immunity to electromagnetic interference, transfer rate up to 5Gb/s, the transmission distance up to more than one hundred meters. It's diameter and weighs less than one third of traditional copper wire, can be used for daily consumption. USB3.0 interface uses metal shell package, but also can adapt to harsh industrial environments.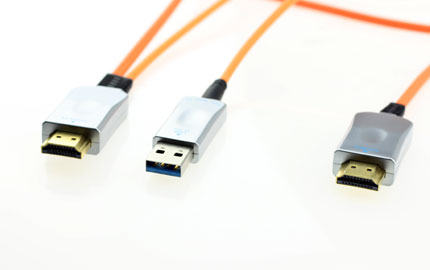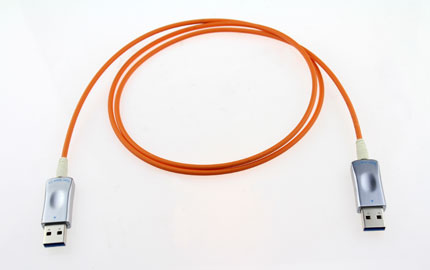 Features
▪ Extends USB 3.0 super speed devices up to 100m over fiber optics(MMF)
▪ Supports all USB 3.0 device type: control, Interrupt, bulk and isochronous at up to 5 Gbps
▪ 850nm VCSEL transmitter, PIN photo-detector receiver
▪ Operates with USB 3.0 super speed hot controllers
▪ Supports all major operating systems including Windows, Mac OS, and Linux
▪ Number of devices can be increased using additional hubs
▪ Remote unit require standard power to USB AOC port
▪ USB 3.0 Standard-A Form-factor
▪ Low power consumption
▪ Operating case temperature: 0 to 70℃
▪ All-metal housing for superior EMI performance
▪ RoHS compliant (lead free)
---

Applications
▪ Industrial Control
▪ Digital Signage
▪ Home Network Integration
▪ Medical Device Connectivity
▪ KVM Extension
▪ Remote Desktop USB 3.0 Connections
▪ Security: web camera, access control
▪ USB 3.0 Devices Sharing: print, scan, storage
Note1: the fiber part of USB 3.0 AOC does not carry power, so upstream connector should be powered by Host side, and downstream connector should be powered by Device side.

Note2: Host side should be USB 3.0 compatible computer* (host computer) with a USB 3.0 compliant operating system.

* USB 3.0 AOC will not function when connected to USB2.0/USB1.1 Host.